First thing you need to do is make sure each track in your song is connected to a separate channel in the mixer. This is the most important part of the whole process and you should do this carefully.
Depending on how many tracks you have in your song you could have as many as 50 tracks connected to a corresponding channel in the mixer.
Remember to give each track it's own channel in the mixer and don't send two tracks to the same channel unless they're something like a main vocal.
Quick tip: Separate the main vocal, ad lib, double, main vocal for chorus, backing vocal for chorus and ad lib for chorus into their own tracks. For example, you can send a main vocal for verses 1,2 and 3 to the same channel in the mixer. This way they'll all be in the same track when you export it.
Second, go to File > Export > Wav file
Third, a dialog window will pop up asking you to name it and save it. The beat I'm exporting is called "Tropical Trap" (don't ask me why I named it that).
Finally, this window will pop up, all you need to is select "Split mixer tracks". You can also copy the same settings I have used here as well.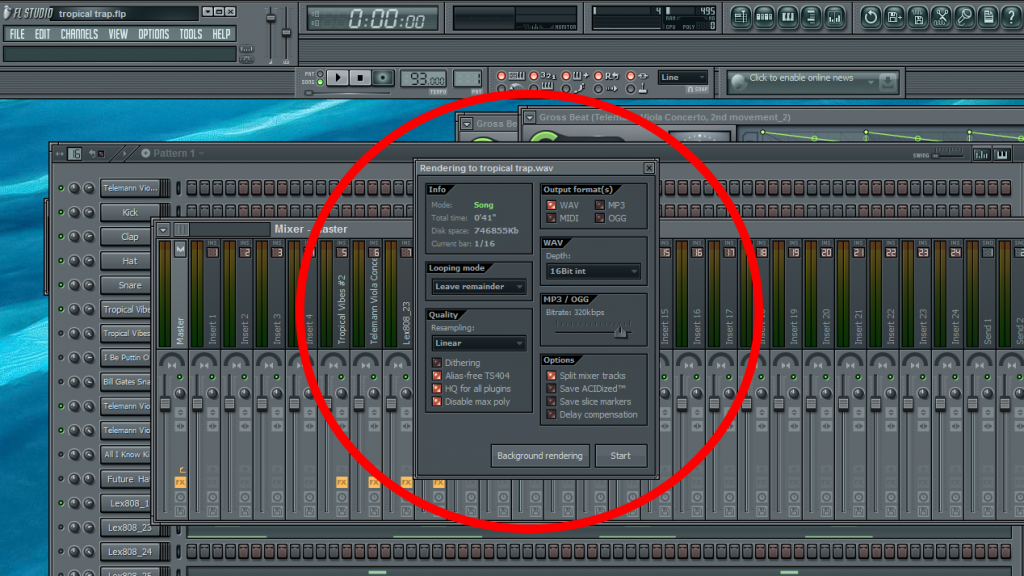 Once you've done that, click "Start" and let the magic happen.
If you've done everything correctly, you'll have a folder with all the tracks from your song separated.
A common problem, even still do today is forget to link one track to it's own mixer channel, so it'll be missing from the folder. So you want to make sure that each track from your song is there. You can do this by exporting your tracks back into your program and making sure they're all there and lined up correctly.
Pro Tip: Now that you've got a folder with all your song's tracks in it, you'll want to zip them up so you can easily share them with your audio engineer for mixing and mastering.